I absolutely love food! I also love to eat healthy. Well… I love bad food more. So what I like to do is find healthy ways to make bad foods AND I like to find creative ways to make healthy foods so that they taste naughty.
I decided to create a page dedicated to my own recipes just to share in case you might want to try one of them!
Bon Appetite!
Crockpot Latin Chicken (from Allrecipes.com website)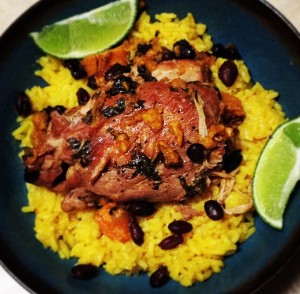 Ingredients: 3 lbs chicken thighs (I used boneless and skinless), 2 large sweet potatoes peeled and cut into chunks, 2 cans of black beans, 1 red bell pepper cut into slices, 1 tbsp. oil, 3 cloves garlic, 1/2 tsp allspice, 2 tsp cumin, 1/2 cup of cilantro leaves separated into two 1/4 cups, 1/2  cup chicken broth, salt/pepper. Optional: lime wedges for garnish, salsa, sour cream, rice
Directions: Season chicken with salt/pepper and 1/4 cup of cilantro leaves. Heat oil in a large pan and cook the chicken thighs for 3-5 mins each side. While chicken is cooking, in a bowl mix chicken broth, garlic, allspice, cumin and the other 1/4 cup of cilantro leaves. When chicken is done, layer in the bottom of the crockpot then cover with sweet potatoes, black beans, red pepper, and seasoning mix. Cook on Low for 4-6 hours. I made regular yellow rice to serve with it but the choice is yours.
Asparagus with Roasted Red Pepper – this is so easy and really good, better than anything I've had in a restaurant. I like to add grilled chicken to it, too.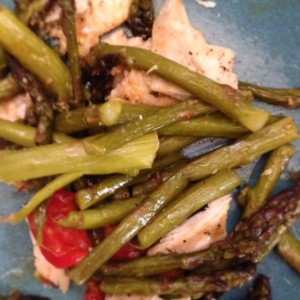 1 package asparagus, 1/4 cup fat free Italian dressing, 2 tbsp. Brummel & Brown butter (it's yogurt based so less fat), roasted red pepper from a jar (as much as you want), salt, pepper, garlic
Melt butter and add Italian dressing to the pan, then add all other ingredients. Mix up to coat the asparagus with the dressing and melted butter then cover and cook for about 25-30 minutes. Just keep checking it to get the softness or hardness of the asparagus that you like!
Pudding Cake – this is an absolutely delicious and very sweet dessert that is very low sugar and low fat!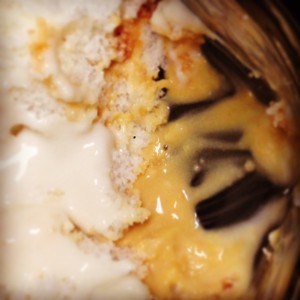 2 packages sugar free, fat free instant pudding, your two favorite flavors. I use white chocolate and butterscotch! Use almond milk vanilla unsweetened to make the pudding. Instead of using 2 cups of milk for each package, only use 1 3/4 cups for each package
1 angel food cake
Directions: Make the pudding and put it in the fridge and let it firm up. The almond milk will make it a little less firm. If you want it to be little firmer, use little less almond milk. Crumble half of the angel food cake in casserole pan. Pour one pudding flavor over it. Then crumble the other half of the angel food cake and pour the other pudding flavor on top of that. That's it, it's done! Enjoy!
Green beans and rice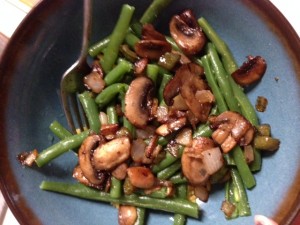 2 tbsp. butter (your choice of lower fat and calorie butter), 1/2 lb green beans, 1/2 cup mushrooms, 1/4 cup green peppers, 1/4 cup onions, 1/2 tsp of minced garlic, 2 dashes worstershire sauce, 1/4 cup cooked rice (your choice of type of rice)
Boil water and 1 tbsp. butter and add green beans, cover and continue to boil for 20-25 minutes or until green beans are soft. Drain the beans and then season with salt and garlic salt. While green beans are cooking, melt the other tbsp. of butter on medium heat and then add peppers, onions, garlic and mushrooms. Let them cook down for 10 minutes and then add dashes of worstershire sauce. Cook another few minutes, then lower heat to simmer or low and let it carmelize a bit. Cook your rice. When everything is done cooking, layer the rice on the bottom of your dish, then add green beans, and top with mushroom mix.
It's delicious!!!
Mexican Casserole
1 bag frito chips
1 can Cream of mushroom soup
1 can Cream of chicken soup
1 can Fiesta Nacho cheese soup
1 can rotel
1 can Hormel turkey chili
Preheat oven to 375 degrees. Mix all ingredients together (except the chips). Crush 3/4 of the bag of fritos and pour into bottom of pan. Then pour soup mix on top.  Top with the remaining fritos and shredded cheese. Bake for ~20 minutes.
This dish is so good, my step-son loves it. It is his favorite! Mine too, can't stop eating it!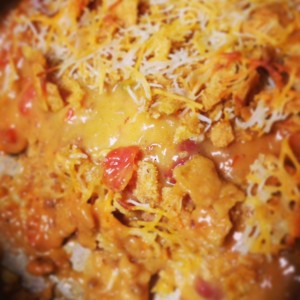 Fresh Italian Avocado
My daughter, Bella, brought this recipe to me and I love it!
1 fresh avocado
2 tbsp. Italian dressing
2 tbsp. Balsamic vinegar
Cut the avocado in half and take the pit out. Pour one tbsp. of Italian dressing and 1 tbsp. balsamic vinegar in the hole from where the pit was and voila! Just scoop and eat with a spoon!